Migrant Rights News & Action for Black History Month
#ImmigrationIsABlackIssue
Throughout #BlackHistoryMonth we honor and celebrate the courageous work being led by Black migrant leadership in our collective movement for human rights and justice for migrants and refugees.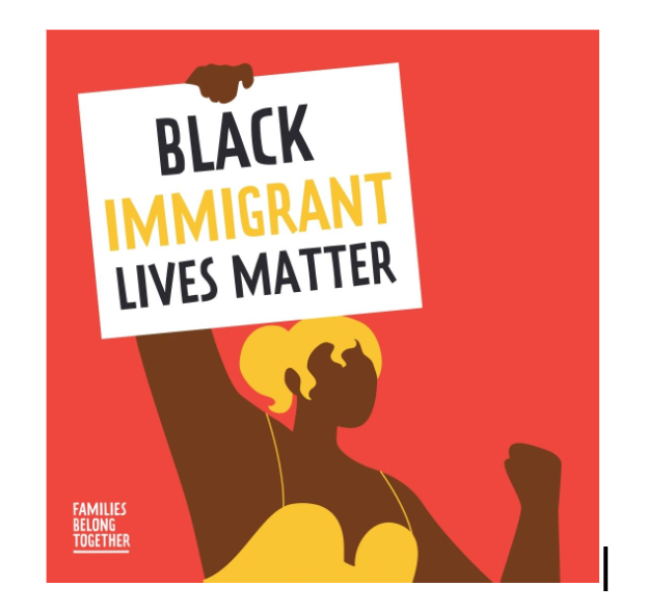 READ ON TO LEARN ABOUT ORGANIZATIONS WORKING ON THE GROUND THAT:
Support migrants on the move, at the border and throughout the US.
Lead organizing and litigation to eliminate exclusionary policies and press for truly inclusive policy change.
Address anti-blackness in immigration policy and reform proposals.
Press the progressive immigrant rights movement to recognize and address our own anti-blackness in order to bring about real and transformative change.
Thank you, for joining us in past actions to support Black migrants and their families, and to demand fundamental human rights for all migrants and refugees.
Black migrants and refugees from around the world are disproportionately and routinely abused while in detention, deported in shackles, physically attacked at the border, and barred from accessing regular legal pathways due to barriers designed to discriminate and exclude immigrants of color, in particular Black migrants and refugees.
Black migrant leaders have rallied to resist these egregious acts of anti-blackness and we join them in demanding the Biden administration live up to their promises to uphold rights and dignity, and provide permanent relief to immigrant communities.
You can support their work by signing on to these important actions:
---
TAKE ACTION!
---
The following groups are leading these efforts above, and much, much more:
"African Communities Together (ACT) is an organization of African immigrants fighting for civil rights, opportunity, and a better life for our families here in the U.S. and worldwide."

Earlier this month ACT celebrated the ruling in the lawsuit E.B. v. Department of which ACT organized. The decision will reopen applications to the Diversity Visa (DV) program to millions of aspiring immigrants around the world, particularly immigrants from Africa.
"The Black Alliance for Just Immigration (BAJI) believes that a thriving multiracial democracy requires racial, social and economic justice for all. African Americans and black immigrants are stronger together and we can win by becoming leaders in the fight against structural racism and systemic discrimination. BAJI was formed to bring Black voices together to advocate for equality and justice in our laws and our communities."

From their 2020 report: The State of Black Immigrants

Just as African-Americans suffer disproportionately high arrest, prosecution and incarceration rates, so too are Black immigrants. This occurs despite no evidence that they engage in more criminalized activities in comparison to any other racial group. Black immigrants are also disproportionately impacted by the compounding impact of the immigration enforcement system. Numerous federal agencies and programs work in conjunction with local law enforcement to criminalize, detain and deport immigrants. The racism present in the criminal legal system spills over and informs the immigration enforcement system, and thus it naturally and unjustly targets Black immigrants at all stages of the process. As the number of Black immigrants living in the United States continues to rise, debates around immigration must acknowledge and rectify the injustice inherent in these enforcement and deportation systems.
"Black Immigrants Bail Fund is a National project of the Haitian Bridge Alliance (HBA) and  African Bureau for Immigration and Social Affairs (ABISA)  with support of other Black led organizations  that provides free assistance and relief to black immigrants in pursuit of Liberation and Justice. Our commitment is to eradicate the mass incarceration of black immigrants and level the playing field of equity in due process; transforming one life at a time."
"Cameroon Advocacy Network, a coalition of organizations and activists across the United States and Cameroon advocating for the freedom and dignity of Cameroonians. We stand in solidarity with all Black immigrants fighting for liberation. Founded and led by Cameroonians in the diaspora in coalition with legal and migrants' rights advocacy organizations, we are uniquely situated to champion the freedom and dignity of Cameroonians, center the issues of black migrants, and build our communities to thrive."
CAM is leading the effort to press for Temporary Status Protections (TPS) for Cameroon, among many of their organizing  advoczcy  initiatives.
"Haitian Bridge Alliance ("HBA") is a nonprofit community organization that advocates for fair and humane immigration policies and connects migrants with humanitarian, legal, and social services, with a particular focus on Black migrants, the Haitian community, women, LGBTQIA+ individuals, and survivors of torture and other human rights abuses. Since 2015, HBA has provided services to asylum seekers and other migrants at the U.S.-Mexico border, in U.S. detention, and during U.S. immigration proceedings."
Among the many things Haitian Bridge Alliance is supporting: Haitian nationals formerly detained at the Del Rio Border Patrol encampment who have filed a putative class action lawsuit challenging widespread Border Patrol abuses and discriminatory summary expulsions under Title 42. To date, the Biden administration has expelled over 20,000 Haitians to a nation that its own State Department has declared unstable and unsafe.
PAN's mission is to "inform and mobilize people of African descent in support of the peoples of Africa and the African Diaspora for sustained peace and democracy as well as economic, political, racial, gender, and social justice."
"The TPS-DED Administrative Advocacy Coalition is a national coalition of more than 100 organizations with deep expertise in law and policy surrounding TPS and DED, country conditions, foreign policy, and USCIS implementation. TPS-DED AAC member organizations range from community-based organizations directly serving impacted communities in the United States to international NGOs, working in and providing insight from affected countries."
Many of the organizations listed in this email are on the Steering Committee, and have been advocating for TPS status (new designations, re-designations, extensions or expansions) for countries in crisis, including: Cameroon, Democratic Republic of Congo, El Salvador, Ethiopia, Guatemala, Haiti, Honduras, Lebanon, Mauritania, Mexico, Nepal, Nicaragua, South Sudan, Syria, Yemen, and more.
"Founded in January 2016 the UndocuBlack Network is a multi-generational network of currently and formerly undocumented Black people that fosters community, facilitates access to resources, and advocates to transform the realities of our people, so we are thriving and living our fullest lives."
We hope we can also count on your continued support and partnership!
Your contributions support NNIRR to:
advocate for immigration policy that centers human rights
lift up grassroots leadership, organizing and advocacy
spotlight border human rights organizing at the US-Mexico border
advocate for international migrant rights & human rights at borders
organize at the intersections, including climate justice and migrant rights